Marie Vilenbachová Kofránková při výrobě hořických trubiček - snímek z Městského muzea v Hořicích
Tradiční krajovou cukrovinku chrání zákon o označení původu. Výrobcům proslulých Hořických trubiček, kteří je nevyrábějí přímo v Hořicích a okolí, nastanou možná zlé časy. Protože je tato cukrovinka registrována podle místa původu, jde tedy o krajovou specialitu, nikde jinde než právě v Hořicích se proto vyrábět nemůže. I další krajové speciality budou nyní doma více chráněny, a pokud je uzná Evropská unie, získají výlučnost pro většinu zemí Evropy.
Od dubna totiž platí nový zákon o ochraně označení původu, který vychází z právních předpisů v Evropské unii, kde s ochranou místních specialit mají letité zkušenosti. A právě Hořické trubičky, jež svůj původ odvozují z dob napoleonských válek, jsou jednou z tradičních potravinářských specialit Hradeckého kraje, které chce Česká republika chránit i v Evropě.
Hořické trubičky stočené ze dvou sladkých oplatek se specifickou skořicovou chutí se nyní vyrábějí po celé republice. Největší hořičtí producenti odhadují jejich počet na třicet.
"Přímo v Hořicích je jich asi patnáct. Mají třeba jen dva zaměstnance, ale také čtyřicet," říká jeden z největších hořických výrobců trubiček Vladimír Brádle. Ten po roce 1989 koupil bývalou městskou provozovnu a začal vyrábět ve velkém. V roce 1991 už produkoval pětkrát více trubiček než původní výrobna.
"V republice je více výrobců, ale ne všichni používají název Hořické trubičky, ale také například Staročeské trubičky," říká další výrobce Roman Krejcar.
Podnikatelům z Hořic však vadí, že název si přisvojuje kdekdo v celé zemi, přitom registrované označení původu to dovoluje jen producentům z Hořic a okolí.
"S pěti výrobci z Hořic jsme vytvořili sdružení a podnikáme kroky, aby označení Hořické trubičky používali jen ti, kteří vyrábějí v Hořicích. Někteří uvádějí, že mají firmu v Hořicích, ale trubičky vyrábějí třeba na Moravě," říká Brádle. Bližší podrobnosti k akcím proti mimohořickým výrobcům nechce zatím prozradit.
Podle zákona musí být oblast, ke které se vztahuje krajová specialita, přesně vymezena. V platném rejstříku označení původu je u Hořických trubiček uvedeno město Hořice s obcemi Dachovy, Chlum, Chvalina, Březovice a Doubrava. Pokud tedy někdo vyrábí Hořické trubičky na jiném místě, porušuje zákon.
"V rejstříku, který stále platí, jsou uvedeni konkrétní výrobci Hořických trubiček. Podle nového zákona by se do rejstříku měly zapisovat skupiny výrobců nebo sdružení. Jde o to, aby se jednotliví výrobci mohli navzájem kontrolovat, zda někdo nepoškozuje dobré jméno výrobku. Když se pak objeví další výrobce a je z vymezené oblasti, nemusí se už registrovat, ale měl by se stát členem registrovaného sdružení," říká vedoucí oddělení ochranných známek Úřadu průmyslového vlastnictví Eva Tesařová.
Výrobci, kteří chtějí chránit své výlučné postavení, se mohou obrátit o pomoc jedině na soud. "Náš úřad se tím už zabývat nebude, je to záležitost soudu," potvrdil mluvčí Úřadu průmyslového vlastnictví Vladimír Pitra.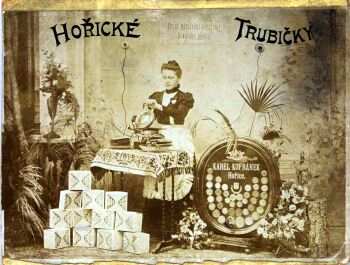 Předváděcí stánek s Hořickými trubičkami na výstavě - snímek z depozitáře Městského muzea v Hořicích.
---